Asian Bean and Rice Rolls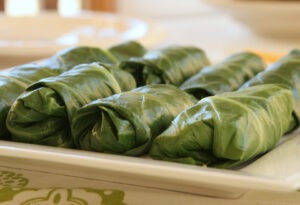 Author:
Clean Eating Online
Ingredients
1 cup medium-grain rice
2 Tbsp rice vinegar or white vinegar
1 Tbsp dry cooking sherry
2 tsp sucanat or turbinado sugar
1 Tbsp grated lemon rind
2 Tbsp slivered almonds
2 tsp dark sesame oil
½ cup diagonally-sliced snow peas (1/4-inch slices)
2 tsp minced ginger root or ¾ tsp ground ginger
1 Tbsp water
1 can (15 oz) kidney beans, rinsed and drained
½ cup chopped seeded cucumber
1 orange, peeled, seeded, coarsely chopped
2 medium green onions and tops, thinly sliced
1 dash each of salt and white pepper (or black pepper)
12 large Boston lettuce leaves or leaf lettuce
Instructions
Cook rice according to package directions. Heat vinegar, sherry, sugar, and lemon rind in small saucepan over medium heat until sugar is melted, about 1 minute. Drizzle vinegar mixture over rice and toss.
While rice is cooking, cook nuts in sesame oil in small skillet over medium heat until toasted, about 2 minutes; remove from skillet. Add snow peas, ginger, and water to skillet; cook, covered, over medium heat until snow peas are crisp-tender, about 2 to 3 minutes.
Stir nuts, snow peas, ginger root, beans, cucumber, orange and green onions into rice. Season with salt and pepper.
Cooked bean-rice mixture can be served or rolled when warm or chilled. When ready to make rolls, spoon about ¼ cup packed rice mixture onto each lettuce leaf and roll up.
Nutrition Information
Calories:
373
Fat:
6 g
Carbohydrates:
66 g
Sugar:
10 g
Sodium:
316 mg
Fiber:
9 g
Protein:
12 g