Banana-Raspberry Bread
This recipe packs a nutritious punch! Manganese from fruit, antioxidants and fiber from berries plus selenium from the egg!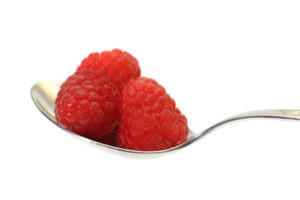 Author:
Clean Eating Online
Ingredients
Cooking spray
2 cups almond flour
¾ cup sucanat or turbinado sugar
2 tsp baking powder
½ tsp baking soda
½ tsp sea salt
4 large ripe or overripe bananas, mashed
¼ cup skim milk
1 large egg
1 tsp pure vanilla extract
1 cup fresh or frozen raspberries
Instructions
Heat oven to 350°F. Coat an 8″ loaf pan with cooking spray. In a bowl, combine flour, sugar, baking powder, baking soda, and salt; whisk to blend. Make a well in center; set aside. In a bowl, combine bananas, milk, egg, and vanilla; fold in raspberries. Pour batter into center of dry ingredients; fold together until combined. Do not overmix. Pour batter into pan; bake 1 hour or until a toothpick inserted in the center comes out clean. Cool in pan on a wire rack for 10 minutes. Remove from pan; cool completely.
Nutrition Information
Calories:
254
Fat:
1 g
Carbohydrates:
56 g
Fiber:
3 g
Protein:
5 g