Butternut Squash with Couscous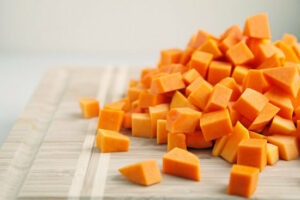 Author:
Clean Eating Online
Ingredients
1 butternut squash (2 pounds)
2 tbsp extra virgin olive oil
1 large yellow onion, diced
2 cloves garlic, finely chopped
¼ tsp cayenne
⅛ tsp cinnamon
⅛ tsp nutmeg
1 tsp cumin
1 cup diced tomatoes
⅓ cup raisins
32 oz vegetable broth
1 15.5-ounce can chickpeas, drained
2 tsp kosher salt
1½ cups couscous
2 tbsp chopped fresh flat-leaf parsley leaves
¼ cup almonds, chopped
Instructions
Halve and peel the squash. Remove the seeds and cut the squash into 1-inch chunks. Heat the oil in a Dutch oven over medium heat. Add the onion and cook for 5 minutes. Add the garlic, cayenne, cinnamon, nutmeg, and ½ teaspoon of the cumin and cook for 1 minute. Stir in the squash, tomatoes, raisins, broth, chickpeas, and 1½ teaspoons of the salt. Bring to a boil. Reduce heat, cover, and simmer for 10 minutes. Uncover and cook until the squash is tender, 15 to 20 minutes.
Meanwhile, in a medium saucepan, bring 1½ cups water and the remaining cumin and salt to a boil. Stir in the couscous. Cover, remove from heat, and let stand for 5 to 10 minutes. Fluff with a fork.
Divide the couscous among individual bowls and ladle the squash over the top. Sprinkle with the parsley and almonds.
Nutrition Information
Calories:
325
Fat:
7 g
Sugar:
13 g
Fiber:
8 g
Protein:
10 g