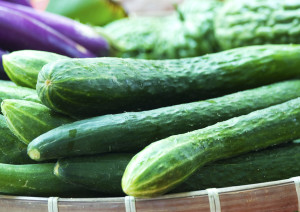 This salad is not only ridiculously healthy, it's ridiculously delicious as well!
Ingredients:
Dressing:
1 cup parsley, chopped
Juice from 2 lemons (1/4 cup)
1 clove garlic, minced
1/4 tsp cumin
1/4 tsp oregano
1/4 tsp paprika
1/3 cup extra virgin olive oil
Salt and pepper to taste
Salad
2 medium cucumbers, peeled
2 green peppers, seeded
1/2 medium red onion
3 tomatoes
1 bunch radishes
1 (6 oz) can large black pitted olives
Instructions:
Chop parsley and place into medium bowl. Add the lemon juice, garlic, cumin. paprika and oregano. Whisk until blended. Slowly drizzle in the oil, stirring constantly. Season with salt and pepper. Adjust seasonings if needed.
Dice vegetables into about a 1/4 inch dice and place in large bowl. Slice olives and add to bowl.
Pour dressing over the salad and toss until vegetables are evenly coated. Taste and adjust seasonings.