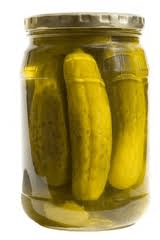 Clean Eating Chicken Sandwich
 Ingredients
1 lb chicken breasts
1 large egg
½ cup milk (substitute almond milk if desired)
1 cup pickle juice
12 pickle slices
3 tbsp vinegar
1 ½ tsp paprika
1 cup flour
1 tbsp powdered sugar
¼ tsp dry mustard
¼ tsp baking soda
4 sprouted whole wheat hamburger buns or buns of your choice
1 tbsp butter
 Instructions
Cut chicken breasts in half into 4 similar size pieces. Pound chicken to 1/2 inch thickness. Sprinkle salt, pepper and ½ tsp paprika to both sides of chicken. Place chicken in 1 cup pickle juice and let marinate for at least 4 hours.
Preheat oven to 450 degrees. Place pickle slices in vinegar and let marinate. In a bowl, combine and stir flour, sugar, baking soda, 1 tsp paprika, dry mustard. Set aside. In another bowl, whisk egg and milk together.
Remove chicken from marinade and dredge one piece of chicken at a time in egg bath, ensuring each side is wet and dredge in flour mixture coating each side. Place each flour coated chicken piece on a wire rack with pan on bottom. Spray each piece liberally with olive oil spray covering both sides and place tray of chicken in oven. Cook for about 25 to 30 minutes, tuning halfway through. Remove from oven and let stand for 5 minutes.
Meanwhile, butter buns and place in oven for 3 to 5 minutes. Take buns out of oven, place pickles on buns and then add chicken on top. Makes 4 servings.