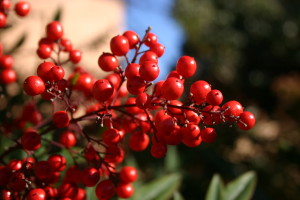 Like getting a wonderful dose of Thanksgiving without all the work!
Serves 4
Ingredients:
8 large lettuce leaves
1 Tbsp. extra virgin olive oil
2 cups shredded cooked chicken or turkey
1 apple, cored and chopped
1/3 cup dried cranberries
3 green onions, sliced thin
1 tsp cumin
1 (14-16 oz can) whole cranberry sauce (or homemade)
Instructions:
Preheat oven to 350 degrees. In a large skillet heat olive oil over medium heat. Add turkey, apple, cranberries, onions and cumin. Cook and stir until heated through and apple begins to soften. Add salt and pepper to taste. Divide turkey mixture among lettuce leaves, tucking in sides.
Spread cranberry sauce over bottom of a 2 qt. baking dish. Add lettuce rolls, seam sides down. Cover with foil. Bake 15 to 20 minutes or until heated through.
Nutritional Information (per 2 rolls); Calories: 391, Fat: 9 g., Sodium: 232 mg., Carbs: 54 g., Fiber: 3 g., Protein: 21 g.