Fettuccini with Mushrooms and Garlic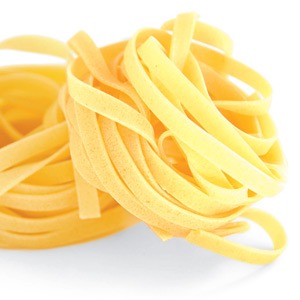 (photo courtesy of delish.com)
Author:
Clean Eating Online
Ingredients
8½ oz fettuccini
1 onion, finely chopped
3 cloves garlic, finely chopped
14 oz button mushrooms, thinly sliced
3 eggs
1½ oz Parmesan cheese, finely grated
⅓ cup parsley, chopped
¼ tsp salt
¼ tsp freshly ground black pepper
Instructions
Cook the fettuccini in a large saucepan of salted, boiling water until al dente.
Meanwhile, heat a large frying pan over medium heat and spray with cooking spray. Add onion and garlic and cook, stirring often, for four minutes or until soft. Add mushrooms and cook for four minutes or until they are tender.
Drain fettuccini and return to saucepan. Whisk eggs. Add eggs,mushroom mixture, Parmesan, parsley, salt, and pepper to fettuccini and toss until well combined.
Place saucepan over medium heat and toss for one minute or until egg mixture has just set. Serve immediately.
Nutrition Information
Calories:
357
Fat:
7 g
Carbohydrates:
52 g
Sugar:
4 g
Sodium:
366 mg
Fiber:
3 g
Protein:
19 g