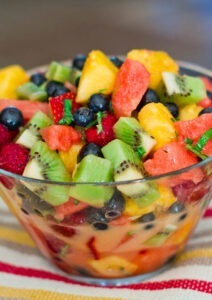 Is there anything better than fruit salad? I say no! I could literally eat this entire recipe it's so good.
Ingredients:
Salad
2 ripe bananas
1 lb of watermelon, chopped
12 oz of blueberries
6 oz of blackberries
1 lb of strawberries, sliced
3 mandarin oranges, peeled and sectioned
4 kiwis, peeled and sliced
Honey Lime Dressing
1/4 cup of organic raw honey
2 tsp lime zest
1 Tbsp fresh lime juice
Instructions:
1. Mix all fruit in a bowl
2. In a separate bowl, whisk together honey, lime juice and lime zest.
3. Pour honey lime dressing over fruit and toss till the fruit is evenly covered.
NOTE: Toss in 1 Tbsp fresh chopped basil if desired.