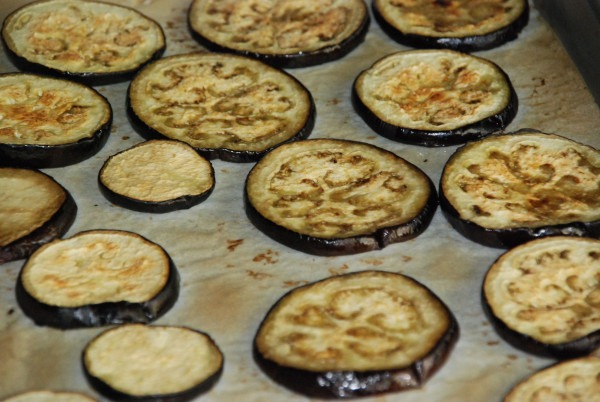 Gluten Free Vegetable Lasagna
Using cottage cheese instead of ricotta cuts the fat in this recipe in half. You could also use goat cheese. Yum!
Author:
Clean Eating Online
Ingredients
1 lb eggplant, sliced into ½ in. thick rounds
1 zucchini, cut into ½ in. thick rounds
1 yellow squash, cut into ½ in. thick rounds
1 tsp. extra virgin olive oil
½ large yellow onion, chopped
4 cloves garlic, minced
1 ½ cups low fat cottage cheese
2 tsp. dried oregano
6 oz. part skim mozzarella, shredded
Instructions
Preheat oven to 375 degrees.
Line 2 baking sheets with parchment paper and spread the eggplant, zucchini and squash out in a single layer on sheets.
Bake for 30 minutes and remove from oven.
Set aside.
In a large nonstick skillet heat oil on medium for 1 minute.
Add onion and cook, stirring frequently for 5 minutes.
Add garlic and cook for an additional 2 minutes.
Remove from heat and stir in cottage cheese and oregano.
Lightly coat an 11x7 inch baking dish with extra virgin olive oil.
Line bottom of dish with zucchini and squash, using all rounds and overlapping them so dish is completely covered.
Top with cottage cheese mixture. Arrange eggplant over cottage cheese in overlapping rows and top with mozzarella.
Bake at 375 degrees for 30 minutes or until cheese is golden and bubbling. Serve immediately.
Nutrition Information
Serving size:
8 oz
Calories:
250
Fat:
10 g
Carbohydrates:
19 g
Sugar:
9 g
Fiber:
6 g
Protein:
23 g