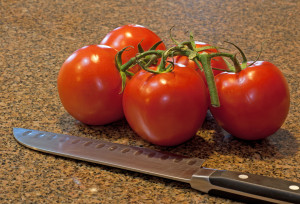 Here's a delicious, healthy marinara recipe I use frequently. Great on it's own or with Clean Eating Meatballs (recipe here), your whole family will enjoy this. It even freezes beautifully!
Ingredients:
1 Tbsp extra virgin olive oil
2 small onions, chopped
2 cloves garlic, minced
2 stalks celery, chopped
2 carrots, peeled and chopped
1/2 tsp sea salt
1/2 tsp freshly ground black pepper
2 (32 oz) cans crushed tomatoes
2 bay leaves
Instructions:
In a large pot, heat oil over medium high heat. Add onions and garlic and saute until onions are translucent, about 10 minutes. Add celery, carrots, salt and pepper. Saute about 10 minutes. Add tomatoes and bay leaves and simmer, uncovered, over low heat until sauce thickens, about 1 hour. Remove bay leaves. Season sauce with additional salt and pepper to taste.