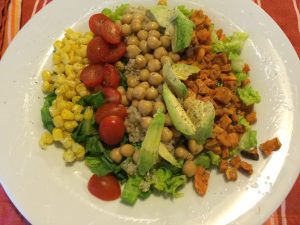 This Quinoa Sweet Potato Salad is AMAZING! If you don't like quinoa you could substitute brown rice, wheat berries, barley or sorghum.
Serves 4
Ingredients:
1/2 cup quinoa
1 medium sweet potato, peeled and diced
2 tsp extra virgin olive oil
Salt and pepper to taste
1/2 tsp paprika
1/2 tsp cumin
Mixed greens or Romaine
1 can chickpeas, black beans or kidney beans
1 can corn
Sliced grape tomatoes
Sliced avocado
Extra virgin olive oil
Juice of 1/2 lemon
Instructions:
Cook quinoa according to package directions. Preheat oven to 375 degrees. Place diced sweet potato on a cookie sheet and toss with olive oil and spices. Roast sweet potatoes until tender, about 20-30 minutes, flipping once halfway through.
Assemble salad: Place mixed greens or Romaine on bottom of bowl or large plate and top with quinoa, roasted sweet potatoes, beans, corn, tomatoes, and avocado. Top with extra virgin olive oil, lemon juice and salt and pepper to taste.