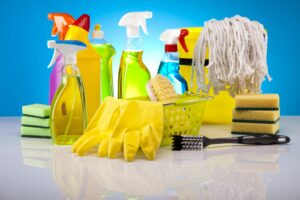 Store bought cleaners are often toxic and can be quite expensive. Replace those yucky cleaners with the following natural products:
Lemon Juice: Great for digestion and sore throats; strengthens immunity, whitens clothes, cleans glass, excellent for highlighting hair, helps to shrink pores and makes an awesome disinfectant.
Coconut Oil: Can polish wood and makes a great lip gloss and  deodorant; prevents wrinkles, improves thyroid function and can reduce migraines.
Apple Cider Vinegar: Repels fleas, deodorizes laundry, can soothe a sunburn, treats acne, helps to control blood pressure, can cure yeast infections and prevent colds.
White Vinegar: Can polish silver, clean windows, unclog drains, cure an upset stomach, soothe a bee sting and can be used as a natural conditioner.
Baking Soda: Puts out fires, helpful for cleaning toilets or ovens, can be used in deodorants and toothpaste, heals diaper rash, treats heartburn.
Castile Soap: All-purpose cleaner, dish soap, can be used to mop floors, body wash, pet shampoo, toothpaste, treats eczema, psoriasis, acne and other skin problems.
Castor Oil: Keeps away rodents, helps to keep plants healthy, strengthen eyelashes, heals cracked heels, softens cuticles, treats dry/itchy skin, can be used as a laxative, helps induce labor and can even reduce menstrual cramping.
Click here for the handy dandy printable to keep on your fridge!