Vegetarian Quesadillas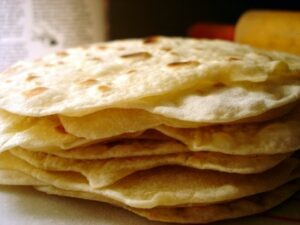 Author:
Clean Eating Online
Ingredients
1 (15 ounce) can black beans, drained
1 (11 ounce) can corn kernels, drained
¾ cup salsa, drained
1 8-count package large flour tortillas
6 ounces shredded Cheddar or Pepper Jack cheese
1 small white onion, thinly sliced
⅓ cup fresh cilantro leaves
½ teaspoon kosher salt
¼ teaspoon black pepper
juice of 1 to 2 limes
2 tablespoons extra-virgin olive oil
1 head romaine lettuce, sliced 1 inch thick
Instructions
Heat oven to 400° F. In a medium bowl, combine the beans, corn, and salsa. Place 4 tortillas on a parchment lined baking sheet.
Sprinkle the tortillas with half the cheese. Top with the bean mixture. Sprinkle with the remaining cheese; top with the remaining tortillas.
Bake the quesadillas until the cheese has melted, 5 to 7 minutes. Transfer to a cutting board.
Meanwhile, in a large bowl, combine the onion, cilantro, salt, pepper, lime juice, and oil. Add the lettuce and toss.
Cut each quesadilla into 6 wedges. Serve with the salad.