Spring Vegetable Pasta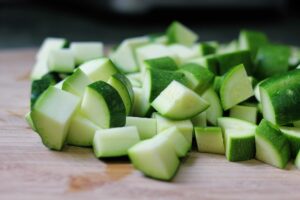 Author:
Clean Eating Online
Ingredients
13 oz penne pasta
2 Tbsp extra virgin olive oil
2 cloves garlic, crushed
1 zucchini, sliced diagonally
2 bunches asparagus, sliced diagonally
3 small yellow bell pepper, sliced lengthwise
1 cup cooked, shelled fava beans (or lima beans)
½ cup green olives, pitted and sliced
½ cup Italian parsley leaves
Instructions
Cook pasta according to package directions. Drain and keep hot.
While pasta is cooking, heat oil in a wok or frying pan. Add garlic and zucchini. Stir-fry for 2 minutes. Add asparagus, bell pepper and beans. Stir-fry for another 2 minutes.
Combine vegetables with hot pasta. Serve in four bowls, each topped with olives and parsley.